Sargassum upcycler raises $5 million
Carbonwave, which upcycles Sargassum seaweed from Mexico's Caribbean coast into regenerative, advanced biomaterials, has announced an initial closing of a $5 million funding round.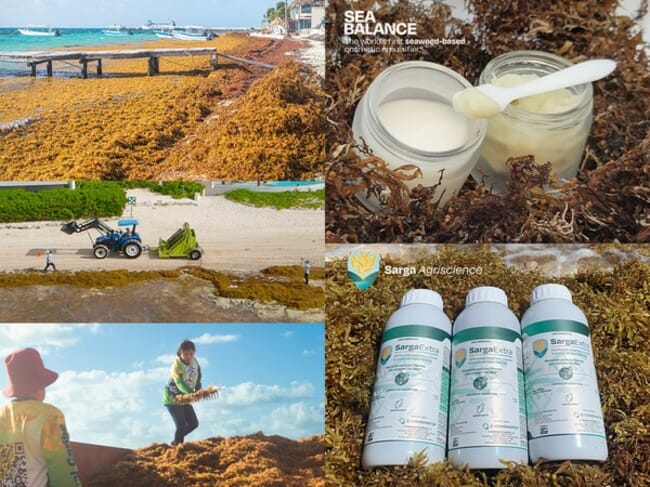 The Series A round was led by Mirova, an affiliate of Natixis Investment Managers dedicated to sustainable investment, with additional participation from Viridios Capital, Popular Impact Fund and Katapult Ocean.
Historically, Sargassum seaweed mats have been a feature of the North Atlantic Ocean. However, in the past 12 years, warming ocean temperatures and increased fertiliser and pollution runoff have triggered the largest seaweed bloom on the planet, in the Caribbean. Known as the great Atlantic Sargassum belt, seaweed from this yearly bloom is washed up from West Africa to the Gulf of Mexico, where it clogs bays and beaches, threatens tourism, harms the local ecology and presents other problems. As it accumulates on beaches and in landfills, it decomposes, releasing vast amounts of methane, which increases the pace of global warming.
Traditionally, most commercial seaweed science has focused on extracting simple, raw compounds from better researched species like kelp. Carbonwave is the first company to chart a route to profitably process Sargassum and has developed a novel and proprietary method of extracting its unique biopolymers that are even more valuable than the simple compounds when extracted separately. This extraction method has made Carbonwave the first in the world to produce a wide range of Sargassum-based biomaterials that can displace fossil fuel-based products, such as emulsifiers, textiles and plastics.
Scaling up
Carbonwave has two operations—one in Puerto Morelos, Quintana Roo, Mexico, and the other in Carolina, Puerto Rico—and is exploring additional ventures in the Caribbean to bring about new economic opportunities centred on sustainability, climate, and positive social and economic impact.
The latest investment round brings the company's total funding to date to $12 million and will be used to build large-scale cosmetics emulsifier production facilities in Puerto Rico.
"Mirova, through the Sustainable Ocean Fund, is thrilled to continue its support for Carbonwave with this follow-on investment into the company," said Simon Dent, head of blue investments at Mirova. "We believe that Carbonwave's processing of Sargassum into high-value products is an excellent example of the Blue Economy at work, whilst also providing a unique solution to help address decarbonisation."
"Our investment in Carbonwave reflects our ongoing commitment to supporting innovative nature-based solutions to mobilise positive action towards net-zero," said Eddie Listorti, CEO of Viridios Group. "Taking Sargassum seaweed, which would otherwise rot on beaches and release methane, and turning it into a range of sustainable products that can displace fossil fuel-based products from the marketplace is the type of innovation the world needs to tackle climate change.
You can read the entire article on the link below